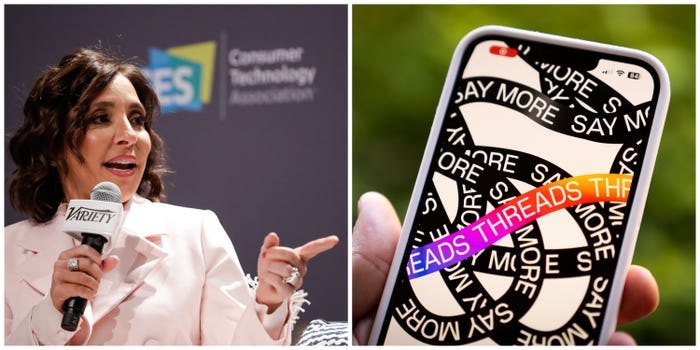 Linda Yaccarino, CEO of X (formerly known as Twitter), has expressed her keen interest in monitoring the activities of Threads, a rival app launched by Meta in early July. She said "we're keeping an eye on everything" Threads is doing.
Despite Threads initially attracting a staggering 100 million signups within five days, the app's popularity has plummeted, with an 82% drop in daily active users by the end of July.
Yaccarino acknowledges the decline but emphasizes the importance of remaining vigilant against competition.
"It's dropped off dramatically," Yaccarino said "But you can never ever take your eye off any competition."
While Threads introduced new features like direct sharing to Instagram direct messages and a "for you" feed, X is pursuing a broader strategy with its "everything app" ambitions. Yaccarino suggests Threads is more focused on mimicking the early functionalities of Twitter.
Meta's CEO Mark Zuckerberg acknowledged that over half of Threads' users had already stopped using the app, prompting the company to introduce new features in an attempt to retain users. This development comes after Threads faced criticism, including remarks from Elon Musk about its restrictive nature and data collection practices.
Yaccarino highlighted Twitter's legacy of innovation, including pioneering features like hashtags and paid verification. She recognizes the history of competitive challenges Twitter has faced but remains confident due to the platform's ability to adapt and lead.
"X is no stranger to competition, many have tried over the years," Yaccarino added.
As X's ambitious plans for its "everything app" continue to evolve, Yaccarino's assertion of staying watchful over competition reflects the ever-changing dynamics of the social media landscape. In this high-stakes arena, where trends and users' preferences can shift rapidly, X's strategy appears to be one of constant adaptation and innovation to maintain its position as a frontrunner.