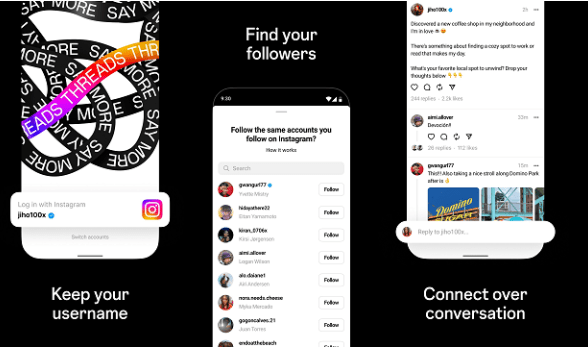 News has been going around about the fact that Meta is about to launch a new product that will compete with Elon Musk's Twitter.
This is indeed great timing, considering the new rules imposing restrictions on viewing tweets by Elon Musk.
Suddenly, Yesterday, Meta's new Twitter-esque message board app, which might be called 'Threads, appeared in the Google Play Store in some regions. Yes! It was spotted, and the image is below.
We are not sure 'Threads' is the name that it's going by, given that Meta had previously launched and failed with a messaging app called Threads back in 2021, but from the look of things, Meta looks to be going with it anyway.
As seen in these promo shots, shared by app researcher Alessandro Paluzzi, Meta's new 'Threads' app will enable users to port their Instagram username over to the new, conversation-based platform, which essentially opens DM chats on a more public basis. This, we believe, is in line with the connectivity style of Meta and its body of apps.
So the new app is like Twitter, but with an IG Direct tilt.
As per the Play Store description of the app:
"Threads is where communities come together to discuss everything from the topics you care about today to what'll be trending tomorrow. Whatever it is you're interested in, you can follow and connect directly with your favourite creators and others who love the same things, or build a loyal following of your own to share your ideas, opinions, and creativity with the world."
So, yeah, that's a concise description of Twitter, which is how Meta's pitching its new app.
Meta has been working on this text-based platform for some time, with the first information about it emerging back in April that it was exploring a decentralised social network for sharing text updates'.
The decentralisation element now seems to be a lesser consideration, with Meta instead focused on using the scale of Instagram as a springboard to build a viable Twitter alternative. This is looking like it will be a game changer for some unhappy Twitter users due to Elon Musk's changes to the app.
Which, as noted, could be about to reach a new peak with Twitter implementing new limits on how many tweets people can view, to combat data scrapers.
What do you think about this new move by Meta?