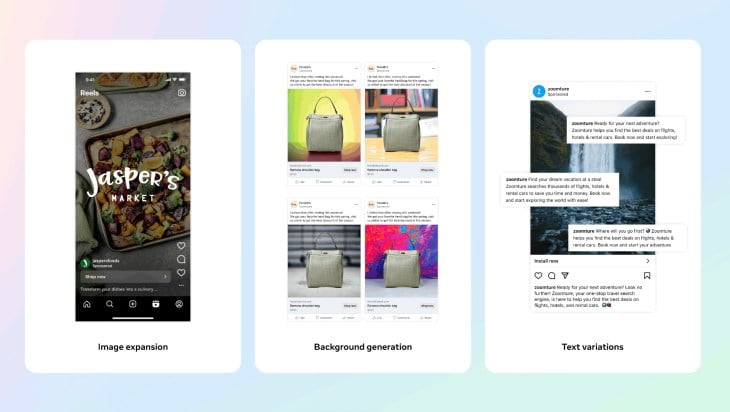 Meta has unveiled its first set of generative AI features designed specifically for advertisers.These new tools leverage artificial intelligence to assist brands and businesses in enhancing their advertising efforts. This announcement follows Meta's recent Meta Connect event, where they introduced the Quest 3 mixed-reality headset and various other generative AI products, including smart glasses and editing tools.
While these AI tools are not as extravagant as celebrity AIs that enable virtual conversations with famous personalities, they highlight Meta's belief in the power of generative AI to support the brands that contribute significantly to their revenue.
One of the new features allows advertisers to personalize their creative assets by generating diverse backgrounds to transform the appearance of images. This feature is reminiscent of Meta's consumer tool, Backdrop, which enables users to modify backgrounds using prompts. In the ad toolkit, backgrounds are generated specifically for advertisers based on their original product images and generally feature simple colors and patterns. This feature is accessible to advertisers leveraging Meta's Advantage+ catalog for sales ad creation.
Another feature, called image expansion, enables advertisers to adjust their assets to fit different aspect ratios required across various platforms, such as Feed or Reels. Available in Meta's Mads Manager for Advantage+ creative, this AI feature aims to save advertisers time that would otherwise be spent repurposing visual assets for different surfaces.
The text variations feature in Meta Ads Manager utilizes AI to generate up to six different versions of ad text based on the original copy provided by the advertiser. These variations can emphasize specific keywords and phrases as desired by the advertiser, who can further customize or select the best options that align with their goals. During campaigns, Meta can also display different combinations of text to different target audiences, evaluating which ones drive better responses. However, performance details for each specific text variation are not currently showcased in Meta's reporting, although running more options provides advertisers with additional opportunities to improve ad performance.
Early tests with a diverse group of advertisers indicate that these AI features save them a significant amount of time, equivalent to five or more hours per week or one month per year. Meta acknowledges the need for further customization of the generative AI output to align with each individual advertiser's style.
Additionally, Meta plans to introduce more AI features, including generating ad copy that highlights unique selling points and creating generative backgrounds with tailored themes. Furthermore, Meta's announcement at Meta Connect revealed future AI capabilities for businesses to use messaging on WhatsApp and Messenger, enhancing customer engagement, e-commerce, and support.