Tech News
Tesla Launches Passenger Trains for Commuters at German Gigafactory
Electric automaker expands transportation options for employees in Berlin with a new railway line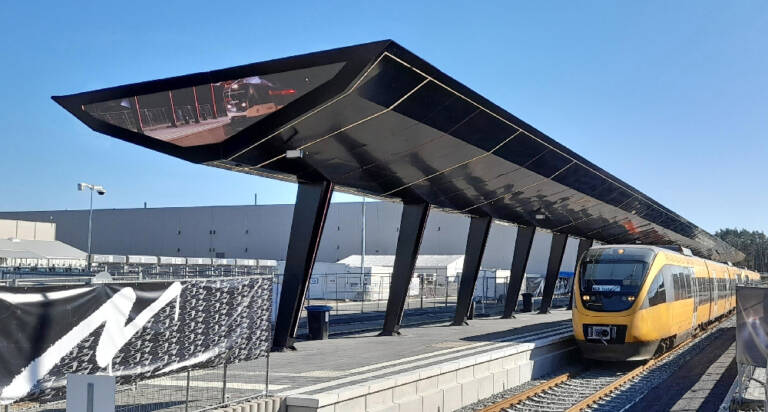 Tesla has introduced a railway line near its Gigafactory in Germany to facilitate the transportation of employees to the facility. The 3-mile long rail line, purchased from a German rail infrastructure company, connects directly to the main line owned by Deutsche Bahn, which connects Berlin with Poland. The railway served to transport construction materials during the factory's development and will continue to operate once the factory is fully operational, handling up to six freight trains daily.
The Gigafactory, located in Grünheide east of Berlin, is Tesla's first manufacturing facility in Europe. With a workforce of around 10,000 employees, the factory is expected to operate 24 hours a day in three shifts. To accommodate the large number of workers, Tesla has partnered with the local rail contractor Niederbarnimer Eisenbahn (NBE) to operate 54 free commuter trains per day, mainly timed to align with Tesla employee shift changes. These trains run from Erkner station, located approximately 5 miles west of the factory, which is served by both fast commuter trains and a separate slower S-Bahn line from Berlin.
Passengers using the short Tesla railway line can easily transfer to Deutsche Bahn trains at Erkner station, providing convenient connectivity to the wider rail network. The new transportation initiative aims to encourage employees, especially those residing in Berlin, to rely on trains for commuting to the factory. Currently, the Tesla shuttle train operates from Erkner, but there are plans to relocate it to Fangschleuse station, closer to the factory, in the future.
By investing in this railway infrastructure, Tesla is not only promoting sustainable transportation but also providing its employees with efficient and convenient means of commuting. With the expansion of public transportation options, Tesla's German Gigafactory aims to reduce traffic congestion and promote eco-friendly commuting choices for employees.