TikTok
TikTok Introduces AI Labeling for Content and Effects
Users to be informed about AI involvement as TikTok introduces new labeling feature and renaming of AI effects.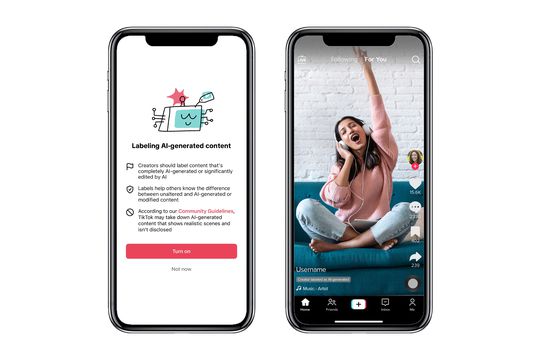 TikTok has recently announced a new feature that allows creators to label content made using artificial intelligence (AI) tools. This follows the growing presence of AI-generated content on the popular social media platform. As per the company's user guidelines, creators are already required to disclose the use of AI tools, but the new feature prompts them to turn on the labeling feature, making it clear to viewers that videos and photos were created using AI software.
The AI label, displayed below the username in video corners, ensures transparency and helps viewers identify AI-generated content. TikTok also cautions creators that failure to disclose the use of AI tools may result in content removal. Furthermore, the company plans to test an automatic labeling system for AI-generated content, which is set to begin this week.
The rapid spread of AI-generated material on TikTok has been experienced both from users and the company itself. Examples include viral content such as fake Drake songs and clips of fake Taylor Swift giving pep talks, which have garnered millions of views. In a bid to be more transparent, TikTok has made the decision to rename effects that employ AI tools, explicitly including the term "AI" in their names. This ensures users are aware of the AI involvement when applying these effects.
One notable example was TikTok's face filter called Bold Glamour, which displayed an unprecedented level of realism; however, the company had previously refrained from confirming whether AI was used to power the effect. With the renaming of effects and the introduction of labeling features, TikTok aims to provide users with greater transparency regarding AI usage.
With these new measures, TikTok is taking steps towards accountability and providing users with the information they need to understand the content they consume. By clearly labeling AI-generated material and renaming effects, TikTok hopes to foster trust and maintain the integrity of its platform.
Excerpt: TikTok's initiatives aim to ensure that users can distinguish between content created through traditional means and content enhanced or generated by AI, enhancing trust and transparency within the TikTok community.