Uncategorized
SpaceX Faces Lawsuit for Alleged Discrimination in Hiring Practices
The United States Justice Department has filed a lawsuit against Elon Musk's aerospace company, SpaceX, for allegedly engaging in discriminatory practices against asylum seekers and refugees during the hiring process. The lawsuit claims that from September 2018 to May 2022, SpaceX routinely discouraged these individuals from applying for positions and refused to hire or consider them based on their citizenship status, which violates the Immigration and Nationality Act.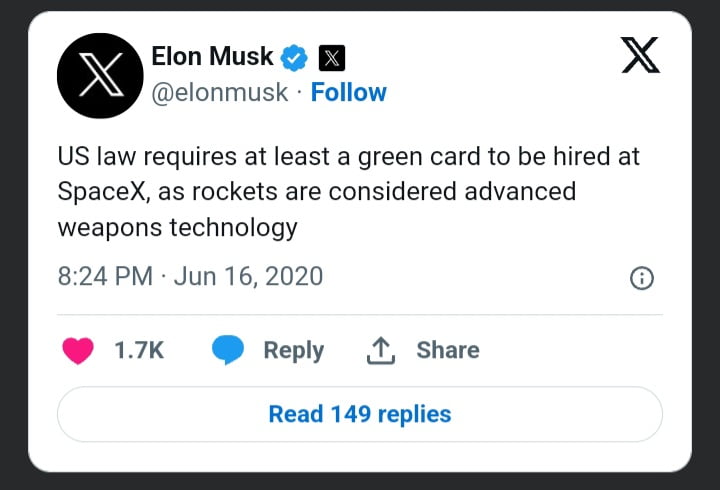 According to the Justice Department, SpaceX falsely stated in job postings and public statements that federal export control laws only allowed the company to hire US citizens and lawful permanent residents, also known as "green card holders." The lawsuit also points to a tweet from SpaceX CEO Musk, in which he stated that a green card was required to be hired at SpaceX due to the rockets being classified as advanced weapons technology. These actions and statements are cited as examples of discriminatory practices by the company.
SpaceX has not yet responded to the lawsuit. The Justice Department's Assistant Attorney General, Kristen Clarke, stated that their investigation revealed that SpaceX had failed to consider or hire asylees and refugees based on their citizenship status, disregarding their qualifications. Additionally, Clarke accused SpaceX recruiters and high-level officials of actively discouraging these individuals from pursuing employment opportunities at the company.
"Our investigation found that SpaceX failed to fairly consider or hire asylees and refugees because of their citizenship status and imposed what amounted to a ban on their hire regardless of their qualification, in violation of federal law," said US Assistant Attorney General Kristen Clarke of the Justice Department's civil rights division.
The lawsuit seeks fair consideration and back pay for asylum seekers and refugees who were deterred or denied employment at SpaceX due to the alleged discrimination. It also aims to impose civil penalties determined by the court and implement policy changes to ensure compliance with federal non-discrimination regulations in SpaceX's hiring practices moving forward. It is now up to the court to determine the outcome of the case.