Tech News
Microsoft Phases Out WordPad in Latest Windows Update
Microsoft discontinues the long-standing WordPad application, encouraging users to switch to Notepad or Microsoft Word for their document editing needs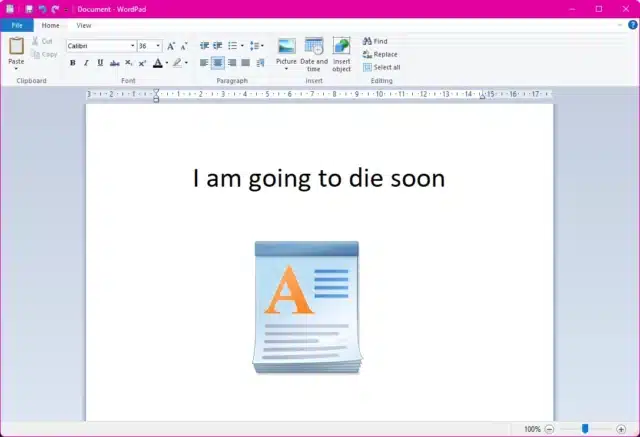 Microsoft has recently announced that WordPad, the intermediate text editor between the basic Notepad and the comprehensive Microsoft Word, will no longer be developed and will be phased out in future releases of Windows 10 and Windows 11. While the exact timeline for its removal remains undisclosed, the company has clarified that WordPad is no longer receiving updates.
According to Microsoft, users with basic requirements for plain text documents can rely on Notepad, which will continue to be available as a built-in application. However, those seeking more advanced features and formatting options are recommended to switch to Microsoft Word, the flagship word processing software offered by Microsoft. Microsoft Word supports various file formats such as .doc and .rtf, ensuring compatibility for richly formatted documents.
"WordPad is no longer being updated and will be removed in a future release of Windows. We recommend Microsoft Word for rich text documents like .doc and .rtf and Windows Notepad for plain text documents like .txt. Microsoft says"
The decision to retire WordPad comes as Microsoft aims to streamline its software offerings and focus on enhancing key elements of its operating system. Although WordPad holds a place in Windows' history, it has garnered a smaller and less passionate fanbase compared to other applications, such as Microsoft Paint. Microsoft's previous plan to remove Paint faced significant backlash, prompting the company to reconsider its decision.
Read also: https://mybrandads.com/microsoft-faces-severe-criticism-for-negligent-cybersecurity-practices/
As technology continues to advance, Microsoft encourages users to adapt and embrace more feature-rich alternatives like Microsoft Word. Notepad and Microsoft Word provide distinct options to cater to different user needs, ensuring that individuals can efficiently handle both basic and complex document editing tasks.