Tech News
Kenya Suspends Sam Altman's Worldcoin Project Amid Privacy Concerns
Kenya has put a halt to Worldcoin, the innovative eye-scanning cryptocurrency project created by OpenAI founder Sam Altman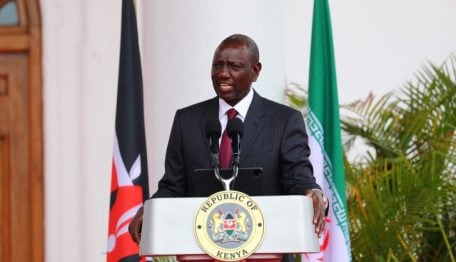 In a move to safeguard citizens' privacy, Kenya has put a pause on Worldcoin, a revolutionary cryptocurrency project founded by Sam Altman of OpenAI. The Kenyan government has ordered the project to stop collecting iris scan data in the country while it assesses potential security and privacy risks, as reported by Reuters.
Worldcoin's groundbreaking initiative involves creating a unique digital identity based on individuals' iris patterns, which can then be linked to digital currencies through their World App. The project quickly gained attention, with people lining up in major cities worldwide to have their eyes scanned by the shiny, silver Worldcoin orbs.
The Communications Authority of Kenya released a statement expressing concerns about the security and storage of the collected iris scans and uncertainties surrounding the attached cryptocurrency.
The Statement Reads: we're going to evaluate Worldcoin due to a "lack of clarity on the security and storage" of the iris scans it's collecting as well as the "uncertainty" surrounding the attached cryptocurrency.
Another issue was Worldcoin's offer of incentives to encourage people to undergo the eye-scanning process.
For signing up for the service, Kenyans received 25 worldcoins, equivalent to approximately 7,100 Kenyan shillings (about $50). However, there were reports that some participants were more interested in the monetary reward than understanding the project's goals. Due to the suspension, thousands of individuals waiting in line to get their irises scanned were turned away, according to The Standard, a Kenyan newspaper.
Alex Blania, the CEO of Worldcoin's parent company, Tools for Humanity, took to Twitter to address the situation. He announced that World ID verifications had been temporarily paused as the company collaborates with local regulators to address their inquiries.
He said on Twitter that the company has paused World ID verifications as it continues "to work with local regulators to address their questions." Blania adds that "World ID is built for privacy," and that the company will continue its global rollout.
Blania emphasized that World ID is designed with privacy in mind and assured users that the biometric data remains confined to the orb and is permanently deleted after sign-up. Instead, the company stores only the IrisCode, a unique numerical representation of an individual's identity.
Apart from Kenya, other countries like France, Germany, and the UK are also evaluating Worldcoin for potential privacy violations. Nonetheless, Worldcoin maintains its stance that user biometric data remains securely within the orb and is not stored anywhere else.
Over two million people have already signed up for the project, as stated by Worldcoin. Despite some regulatory scrutiny, the company remains committed to its global rollout.