Tech News
Apple Set to Unveil Enhanced iPad Pro with Upgraded Processors, OLED Screen, and Redesigned Accessories in the Coming Year
Exciting updates are on the horizon for Apple's iPad Pro lineup, including powerful M3 chips, vibrant OLED displays, and enhanced Magic Keyboard.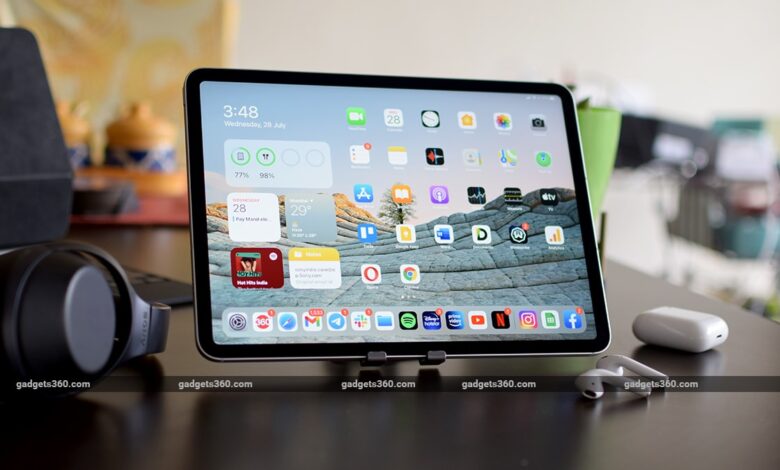 Apple is gearing up for a major revamp of its flagship tablet, the iPad Pro, set to mark the most significant hardware update in nearly six years. According to reliable Bloomberg reporter Mark Gurman, insiders reveal that Apple is diligently crafting new Pro models with notable improvements in processing power, visuals, and camera capabilities. The company's plan includes the launch of two iPad Pro versions next year, showcasing the successor to the M2 chip and introducing vibrant OLED displays. Enthusiasts can also anticipate an upgraded design for the Magic Keyboard accessory tailored for the iPad Pro.
Gurman's newsletter reveals that these upcoming iPad Pro models, codenamed J717, J718, J720, and J721, will depart from their predecessors by adopting OLED screens. These tablets will be available in 11-inch and 13-inch variants, with the larger size only slightly exceeding the current 12.9-inch iPad Pro from 2022.
The exciting innovation lies in Apple's decision to integrate OLED technology into their tablets, which is already known for its superior color accuracy and higher brightness compared to LCD displays. Alongside this, the Magic Keyboard is set for a makeover, sporting a roomier trackpad that will create a laptop-like experience when combined with the iPad Pro.
Under the hood, Apple's next-generation iPad Pro models will house the highly anticipated M3 chip, promising exceptional processing capabilities. The Cupertino-based company is rumored to employ an advanced 3nm chip, a step ahead of the current 4nm M2 chips, potentially offering improved efficiency and performance. However, fans may need to exercise patience until the latter half of 2024 for the official launch of the new iPad Pro featuring the M3 chip.
In the meantime, Apple is expected to introduce minor updates to other tablet models like the iPad Air and iPad mini before the highly anticipated Pro version takes center stage. Stay tuned for a year of exciting advancements in Apple's tablet lineup.
Apple is gearing up for a significant upgrade to its popular iPad Pro, the top-tier tablet model, as reported by Bloomberg's Mark Gurman. In a notable hardware overhaul, Apple is said to be preparing the launch of two new iPad Pro models in the latter half of 2024. These new models are anticipated to feature upgrades in processor, display, and camera technology.
According to Gurman's newsletter, the forthcoming iPad Pro models are internally referred to as J717, J718, J720, and J721. Unlike the previous year's models, these versions are set to incorporate advanced OLED displays, known for their superior color accuracy and increased brightness levels compared to LCD panels. The new tablets will be available in 11-inch and 13-inch display sizes, the latter being only slightly larger than the current 12.9-inch iPad Pro.
The real highlight, however, lies under the hood. Apple's rumored M3 chip is expected to power the next-gen iPad Pro models, bringing forth a significant boost in performance. This processor, built on the next-generation 3nm technology, is likely to offer improved efficiency and enhanced performance compared to the existing M2 chips found in current Apple devices.
Furthermore, Apple is reportedly working on redesigning its Magic Keyboard accessory to complement the iPad Pro. This updated accessory is said to feature a larger trackpad, making the combination of the iPad Pro and the Magic Keyboard resemble a laptop-like experience.
While enthusiasts may need to wait until the latter half of 2024 for the unveiling of the new iPad Pro models, smaller updates are anticipated for other Apple tablets like the iPad Air and iPad mini before the anticipated Pro model arrives.