Social Media
Tech News
The introduction of robotic surgery in Devon hospitals has ushered in a new era of precision and efficiency in patient care
The introduction of robotic surgery at Devon hospitals is revolutionizing healthcare by offering precision, faster recovery, and shorter hospital stays.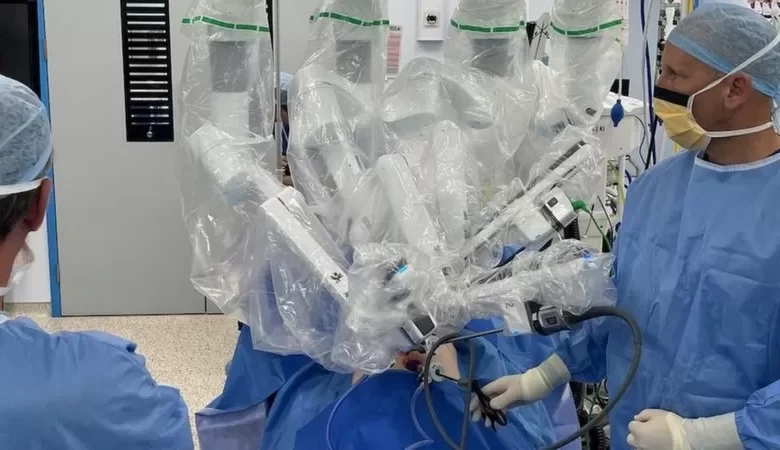 Surgeons in Devon are embracing an exciting advancement in medical technology as they expand the use of robotic surgery, heralding a new era of precision and benefits for patients. Robotically-assisted surgery, featuring the use of robotic arms, has become a game-changer for North Devon District Hospital (NDDH) in Barnstaple and the Royal Devon and Exeter Hospital (RD&E), with each hospital acquiring a new robot to bolster their surgical capabilities.
Supported by funding from NHS England and the Cancer Alliance, the introduction of robotic surgery is already transforming patient care across the UK. The cutting-edge technology has earned praise for its life-saving capabilities and its potential to reduce hospital stays, benefiting patients and medical teams alike.
RD&E, with its rich history of exploring robotic surgery, has been utilizing variations of the technology for a decade. However, this marks the first introduction of its kind at NDDH. Patients at NDDH are already experiencing the advantages of robotic surgery, benefiting from precise procedures for hiatal hernias, inguinal hernias, and gallbladder removal.
At RD&E, the third robotic system has been welcomed into the hospital, making a significant impact in the field of ear, nose, and throat (ENT) surgeries. The robot has successfully aided surgeons in removing tumors from the tonsils, tongue, voice box, and swallowing passage. Additionally, the first robot at RD&E, which has been in operation for a decade, has performed over 2,000 cancer procedures in urology operations. A second robot, in service for approximately four years, supports major orthopedic surgeries, further showcasing the versatility and effectiveness of robotic-assisted surgery.
Lead ENT surgeon, Mr. Joel Smith, expressed his excitement over the remarkable advantages robotic surgery offers. Operations that would have once taken up to 12 hours and involved invasive open surgeries can now be completed in just 60 minutes through the use of keyhole surgeries. Patients who previously required intensive care can now return to regular wards for their recovery. The average length of hospital stays for patients undergoing robotic surgery at RD&E is four days, with some patients even able to return home on the day following their surgery.
Mr Smith, said: "Operations are faster and less invasive – what used to take up to 12 hours and involve open surgery can now be performed as keyhole surgery and take 60 minutes.
"Patients who would have previously needed intensive care nursing patients go straight back to the ward."
Robotic surgery's precision and efficiency have revolutionized patient care, reducing the need for extended hospital stays and allowing for faster recovery times. Surgeons at both NDDH and RD&E are eagerly embracing this transformative technology, enhancing patient outcomes and ensuring that medical procedures continue to evolve for the better. The introduction of robotic-assisted surgery represents a major leap forward in Devon's medical landscape, providing hope and healing to patients across various surgical disciplines.