Tech News
Spotify has unveiled a dedicated in-app "Merch Hub," providing users with personalized merchandise recommendations
Discover and Buy Artist Merchandise Tailored to Your Tastes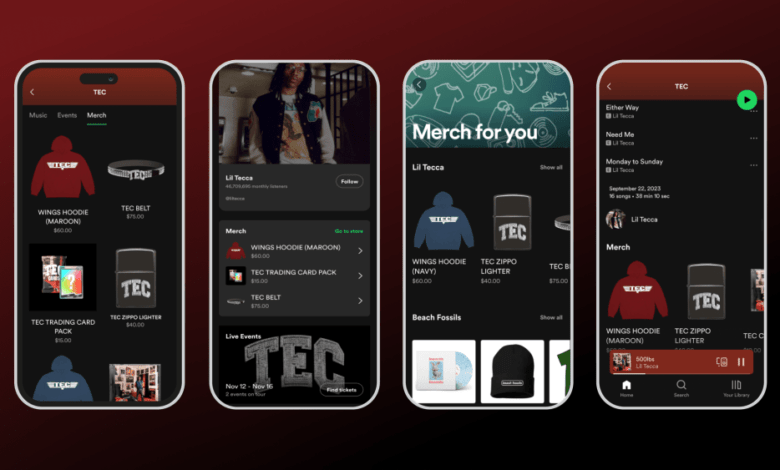 Spotify has unveiled a dedicated in-app "Merch Hub," providing users with personalized merchandise recommendations based on their listening habits. This innovation simplifies the process of purchasing artist merchandise by consolidating all offerings into one convenient location.
With the Merch Hub, users can effortlessly explore merchandise items and obtain detailed information about them. When ready to make a purchase, they can do so through the artist's Spotify store, thanks to a strategic partnership with Shopify.
Heather Ellis, Spotify's Product Marketing Manager of Fan Monetization, emphasized that this merch hub represents a groundbreaking shopping experience tailored to individual listening habits and fan preferences. The new feature takes a proactive approach by presenting recommendations from users' favorite artists, making it easier for fans to discover and acquire merchandise.
Spotify's commitment to supporting artists is evident in this initiative, aligning with its mission to enable artists to sustain themselves through their craft. The platform experienced its highest-grossing merchandise sales week last year following the release of Spotify Wrapped results, and this year's Spotify Wrapped is eagerly anticipated.
To access the Merch Hub, users can simply search "Merch" or navigate to the Merch tile on the Browse page. This user-friendly interface aims to provide a seamless experience for Spotify's vast user base.
This announcement coincides with Spotify's preparations for launching a "Superpremium" subscription tier at $19.99 per month. This premium offering is set to include lossless audio, AI playlists, advanced mixing tools, extended audiobook listening, and a personalized feature called "Your Sound Capsule," allowing users to curate content based on mood, activity, or genre.
Spotify's commitment to enhancing the music experience, connecting fans with artists, and exploring new subscription options continues to shape the future of music streaming. Stay tuned for Spotify's Q3 earnings results on October 24 to learn more about the company's ongoing success.